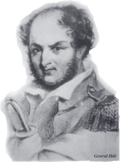 1798

General Holt's
Battle Flag
1798
THE HOLT FAMILY FELLOWSHIP
Est.11th January 2000
"Who wishes to serve his fellow creature will meet with the merit of his own action in time to come."
Joseph Holt 1756 - 1826, A Rum Story, Peter O'Shaughnessy editor, 1988, p.53.
Ascendancy and Yeoman Researchers' Chat
The following instructions have been written to help those chatters unfamiliar with the process.
You must first register your email address.

Don't be afraid to do this. Our web designer is an active member of a group of programmers dedicated to thwart illegal users and spammers. We are well protected, and your email address will not be seen by anyone other than the webmaster and editor.
If you have registered to use The General's Chat, there is no need to re-register.

To log in please enter your email address and
When this is done, you return here to log in.
This then takes you to the Chat Room where you type in your query, or statement in the box provided and click onto CHAT to post it.
** Email addresses should not be added to chat messages. This is how Spammers get hold of email addresses. Added email addresses will be removed.
We need each researcher to provide their ancestral research so we can all help each other to build our ancestral trees. Emailing each other privately makes a nonsense of the purpose of our Chat Rooms
Most recent messages:
Date
Time
Name
Message
31st Aug 15
18:48:33
Lionel Fowler
Hi Heather, Please place your chats in the correct chat room, you have used all three!
10th Jul 15
23:39:54
heather kershaw
looks very like me uncle
10th Jul 15
23:39:35
heather kershaw
my mom is related to him by 4 great grandfathers
7th Apr 15
04:21:07
Lionel Fowler
Sorry for my reply neglect Austin.
Our chat rooms only deal with Irish family history. Ireland's National Library in Dublin should be able to provide you with an answer.
21st Mar 15
07:46:33
Austin Gilbert
Hope you can direct me to information on the history of Newtownbarry (Bunclody) during the period 1700 to 1770 prior to the rebellion.
Thank you
Austin Gilbert,
23rd Aug 14
00:44:06
Allison Hoopes
Hello, Ber! I've been trying to muck through the Dublin Mathews folks, and am looking over a connection between a Patrick Mathews, of Lower Dorset Street, and a John J. Mathews, hotelier, of Maryborough, Laois. Somehow the Laois Mathews family is associated with my John and Francis Mathews. Have you stumbled on any of this? Hope all's well with you.
16th Apr 14
18:50:17
Lionel Fowler
Hi Gerard, Welcome back.
I wish to back up Alison's request. So that our family researchers can help you both. Would you please write your informative chats in The General's Chat Room for which they are qualified to enter, then we all can learn as you make progress with your family research?
6th Apr 14
09:54:10
Allison Hoopes
Gerard, welcome! I'm on here. I don't get on here as much as I used to though. I've been looking for you, as it's been some time since we last chatted. Early on I was instructed to go to the General's room, so you can find a lot of things posted in there if you search on Holt, Bull, and Mathews. My regular e-mail address is the same as when we last conversed.
16th Jan 14
08:11:01
Lionel Fowler
Hi Jessica, We admire your industry and thank you for your kind offer. We are sure that our chat rooms can help you. Unfortunately, you are using the wrong one! You should enter your chat in The General's Chat Room to enable Holt family chatters to help you. I will email you our acceptance of your offer within the next day or two.
16th Jan 14
08:00:26
Jessica Holt
Just up to Sir Thomas Holte and Anne Colby of the 15th cent. You can email back and I can scan you a bibiologphy/linage data. Thankyou.
Registered users may view earlier messages from the chat page once logged in.
No chat will be published unless the chat register is activated. The Holt Family Fellowship reserves its right to editorship and refusal of other websites to be registered on its site. This site is not to be used for individuals' or companies' promotion. Chatting signifies agreement with these conditions.


1798