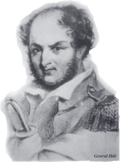 1798

General Holt's
Battle Flag
1798
THE HOLT FAMILY FELLOWSHIP
Est.11th January 2000
"Who wishes to serve his fellow creature will meet with the merit of his own action in time to come."
Joseph Holt 1756 - 1826, A Rum Story, Peter O'Shaughnessy editor, 1988, p.53.
The General's Chat Room
SPECIAL ANNOUNCEMENT:
With the retirement in Australia of Pamela Goesch and Lionel Fowler after approximately sixty years spent researching the true descendants of General Joseph Holt, Bernadette (Ber) Holt has offered her research services to our chat rooms. We would all be aware of and appreciate Ber's amazing family research abilities. The Holt Family Fellowship researchers are extremely lucky to receive such a wonderful offer. Most of us understand the tremendous work that this involves. The Holt Family Fellowship has accepted Ber's offer with our deepest gratitude. It is fitting that our family research in our chat rooms will now be based in Ireland.
The Holt Family Fellowship reserves its right to restrict this generous service if necessary. Our chatters are reminded of the principles of "fair dealing".
---
The following instructions have been written to help those chatters unfamiliar with the process.
You must first register your email address.

Don't be afraid to do this. Our web designer is an active member of a group of programmers dedicated to thwart illegal users and spammers. We are well protected, and your email address will not be seen by anyone other than the webmaster and editor.
If you have registered to use The United Irish Researchers' Chat, there is no need to re-register.

To log in please enter your email address and
When this is done, you return here to log in.
This then takes you to the Chat Room where you type in your query, or statement in the box provided and click onto CHAT to post it.
** Email addresses should not be added to chat messages. This is how Spammers get hold of email addresses. Added email addresses will be removed.
We need each researcher to provide their ancestral research so we can all help each other to build our ancestral trees. Emailing each other privately makes a nonsense of the purpose of our Chat Rooms
Most recent messages:
Date
Time
Name
Message
29th Jul 19
09:25:06
mary byrd
Just checking in as I was with some cousins last week who did not know about the Holt connection. I pulled out my genealogy box which I have not looked at in a few years and now see I have not been on this site since 2016. I do have a bit of research on Iowa Holts if anyone is ever interested.
I have a beginning draft of a screen play that Peter O'Shaunessy was working on about Joseph Holt when I met him during the 1998 Bicentennial festivities in Wicklow.
All the best to cousins around the world!
1st Jul 19
08:15:00
Peter Eldred
Hi everyone
My wife Deb & I are heading over to Ireland later this month
Does anyone have a suggested itinerary.
Regards Peter
21st May 19
03:10:18
Phil Holt
Hi Laurie, we must be relatives
as I am also descended from the general's brother Joshua. I would be interested to know your line if you fancy sharing, and me with you...?
16th May 19
08:14:45
Laurie Wilson
Hi everyone; a long time since I visited this site. Genealogical records suggest that I am a descendant of the General's brother Joshua (1760-1826). I have done a DNA test and I have shared DNA matches with direct descendants of the General (through the Fowler family), which proves that my Holt ancestors (including Joshua 1810-1894) are members of the General's extended family.
15th May 19
10:09:51
Phil Holt
Hi, I am planning a trip to Ireland in September and part of the trip will be to visit sites linked to my 5th Great Uncle Gen Joseph Holt. So far I have Monkstown, the 1798 memorial near to Roundwood and Ballydaniel on my list of places to vist. Can anyone recommend any other sites please? Many thanks,

Phil.
12th Nov 18
10:20:49
Carole Parkes
The previous post is from the issue dated Mon 20 April1863.
12th Nov 18
10:15:59
Carole Parkes
I can't remember if I added this. here it is anyway, in case I didn't

Found in Trove newspapers: The Sydney Morning Herald (NSW : 1842 - 1954)

On January 12, at 101, Lower George-street, Kingstown, Ire- land, of bronchitis, Mary Anne Holt, relict of the late Mr. William Shaw, daughter of Joseph Holt, Esq., better known as General Holt, and sister of the late Joshua Holt, Esq., of this city.
6th Sep 18
23:30:49
Carole Parkes
Nigel, have you tried searching the general's chat search box right at the bottom of this page. I wish I could help more, but Lionel Fowler, the founder of this site, added the information you seek and I don't think he's active on this site anymore.
30th Aug 18
08:51:31
Carole Parkes
Hi Mike,
Did you see this information I found on Mary Ann Shaw?

Mary Anne Holt (Marrianne) daughter of General Joseph Holt was born about 1793 and she married William Shaw at Christ Church Delgany 16/1/1809. She was living at Bellevue, no address for William.
The following children baptised at Christ Church Delgany were probably theirs.
A William Peter Shaw was baptised 15/Apr/1810 with parents William and Mary (Anne?) who lived Bellevue.
Also an Emily Shaw c 8/Mar/1812, parents this time says William and Mary ANNE of Bellevue.
Also a Charles Stewart Shaw c 15/Jan/1814, parents Willaim and Mary (Anne missed out again) of Bellevue. There is a burial for Charles Stewart on 24/Jan/1814.

These are in addition to the baptisms in Monkstown. Joseph Holt Shaw b. 26/5/1817 c 15/6/1817, John Shaw b 11/10/1823 c 26/10/1823, Elizabeth Shaw b 22/11/1825 c 4/12/1825, Robert Shaw b 13/8/1836 c 22/10/1836. Another possible daughter was Amelia Shaw (born about 1817) was confirmed in Monkstown but not baptised there and also Hester confirmed at the same time. (Monkstown baptisms from Pam).

Also we now have:
St Peters C.O.I. Esther Shaw d/o Wm and Mary ann Shaw was baptised 8/4/1815
St James R.C. Mary Ann Shaw baptised 3/12/1813 d/o Wm and Mary Ann Shaw.
St James R.C. Robert Shaw baptised 1/4/1827
St James R.C. Elizabeth Shaw 22/2/1833
24th Jul 18
10:44:56
Nigel Burch
I'm writing a biography of Sir Richard Dry. The first two chapters cover his father Richard and the United Irishmen. You have a portrait of Richard Snr on the website. Does anyone know where this comes from? Also, you say Gen Holt recommended Richard Dry Snr as Superintendent of Livestock in 1805. What is the source of this? Many thanks for any help.
Registered users may view earlier messages from the chat page once logged in.
No chat will be published unless the chat register is activated. The Holt Family Fellowship reserves its right to editorship and refusal of other websites to be registered on its site. This site is not to be used for individuals' or companies' promotion. Chatting signifies agreement with these conditions.


1798