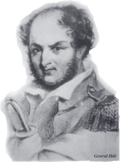 1798

General Holt's
Battle Flag
1798
THE HOLT FAMILY FELLOWSHIP
Est.11th January 2000
"Who wishes to serve his fellow creature will meet with the merit of his own action in time to come."
Joseph Holt 1756 - 1826, A Rum Story, Peter O'Shaughnessy editor, 1988, p.53.
The General's Chat Room
Why register?
This chat room has been set up to allow people interested in our family history to meet online and share information. It is intended to be a friendly and interesting place. Normal rules of etiquette and decency apply. The chatroom is regularly monitored and inappropriate messages will be deleted, and the user barred from further chat.
No chat will be published unless the chat register is activated. The Holt Family Fellowship reserves its right to editorship and refusal of other websites to be registered on its site. This site is not to be used for individuals' or companies' promotion.
Registration enables us to keep the chatroom a pleasant place to be.


1798