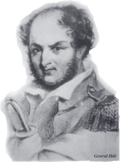 1798

General Holt's
Battle Flag
1798
THE HOLT FAMILY FELLOWSHIP
Est.11th January 2000
"Who wishes to serve his fellow creature will meet with the merit of his own action in time to come."
Joseph Holt 1756 - 1826, A Rum Story, Peter O'Shaughnessy editor, 1988, p.53.
United Irish Researchers' Chat
The following instructions have been written to help those chatters unfamiliar with the process.
You must first register your email address.

Don't be afraid to do this. Our web designer is an active member of a group of programmers dedicated to thwart illegal users and spammers. We are well protected, and your email address will not be seen by anyone other than the webmaster and editor.
If you have registered to use The General's Chat, there is no need to re-register.

To log in please enter your email address and
When this is done, you return here to log in.
This then takes you to the Chat Room where you type in your query, or statement in the box provided and click onto CHAT to post it.
** Email addresses should not be added to chat messages. This is how Spammers get hold of email addresses. Added email addresses will be removed.
We need each researcher to provide their ancestral research so we can all help each other to build our ancestral trees. Emailing each other privately makes a nonsense of the purpose of our Chat Rooms
Most recent messages:
Date
Time
Name
Message
12th Jun 19
05:15:47
Laurence Barber
I have two DNA links to the Manning families of Rathdrum, one of which links to Hester Holt who's mother was a Manning (Mary?), wife of Samuel? Long of Round Wood. I'd love more info about the Manning / Holt link if there is any. Thanks.
2nd Jun 19
10:33:54
gary porter
My ancestor Richard Byrne was also on Norfolk Island with Joseph Holt after arriving on the Minerva with him
4th Oct 18
05:45:16
sandra dooley
my ancestor Nial Devitt of Scarr Mountain is on the Roll of Honour in Wicklow Gaol. Family stories indicate that he was sold into service of the King of Prussia after the 1798 rebellion I'd love to find out more about his involvement and fate
25th Mar 18
09:53:31
gary porter
My ancestor Richard Byrne was imprisoned on ''the Lively'' and transferred to the Minerva and travelled with JosephHolt to Australia.He was obviously known to Joseph Holt as he was one of the ''resolute men and true'' chosen by Holt to fight the pirates . Richard is listed as aWicklow United Irishman in Wicklow gaol although resident over the border at Calverstown ,Kildare . He was arrested near Wicklow and was named in the Banishment Act 1798. I am hoping to find any more connection withJoseph Holt
25th Dec 15
23:05:30
Ian Robertson
Sorry, Constance Weaver, not Fowler
25th Dec 15
23:04:54
Ian Robertson
Hello yet again. I'v just read all the too-ing and fro-ing in 2007 re the Harmans. Does anyone know what became of Constance (Harmon) Fowler? If someone still has her email address I'd appreciate it if they could contact her and seek permission for me to contact her. Many thanks
25th Dec 15
22:27:14
Ian Robertson
Hi again,
There does not seem to be a "search" feature for this chat room. Am I missing something?
25th Dec 15
22:12:12
Ian Robertson
I'm researching one of the Rebels transported on the "Tellicherry" in 1805.His name was Lawrence Harman (although there are variations in spelling). I have traced him up to 1821, when he is shown on the Convice Register as "Emancipated" and a servant of Joshua Holt (Joseph Holt's son). I'm wondering if there are any primary sources which mention in detail Joshua Holt's life or recollections, and if anyone can point me towards any further records that there may be of the Joshua Holt household.
31st Aug 15
18:44:58
Lionel Fowler
Hi Heather, It is important that you validate your chats before submitting them to our chat rooms otherwise it skews our family research with incorrect entries with false assumptions. Your Holt enquiries must be made in The General's Chat Room as you have done with other entries.
Thomas Holt was one of Joseph Holt's brothers. If you read our articles you will learn that Joseph's daughter was left in the care of the La Touche family who paid the passage of his wife and elder son. They sailed with Joseph aboard the 'Minerva' as a political prisoner.
10th Jul 15
23:35:27
heather kershaw
general holt had a infant daughter when he was sent to tasmania he left her with the tous family
Registered users may view earlier messages from the chat page once logged in.
No chat will be published unless the chat register is activated. The Holt Family Fellowship reserves its right to editorship and refusal of other websites to be registered on its site. This site is not to be used for individuals' or companies' promotion. Chatting signifies agreement with these conditions.


1798