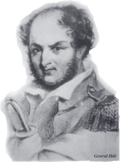 1798

General Holt's
Battle Flag
1798
THE HOLT FAMILY FELLOWSHIP
Est.11th January 2000
"Who wishes to serve his fellow creature will meet with the merit of his own action in time to come."
Joseph Holt 1756 - 1826, A Rum Story, Peter O'Shaughnessy editor, 1988, p.53.
The General's Chat Room
SPECIAL ANNOUNCEMENT:
With the retirement in Australia of Pamela Goesch and Lionel Fowler after approximately sixty years spent researching the true descendants of General Joseph Holt, Bernadette (Ber) Holt has offered her research services to our chat rooms. We would all be aware of and appreciate Ber's amazing family research abilities. The Holt Family Fellowship researchers are extremely lucky to receive such a wonderful offer. Most of us understand the tremendous work that this involves. The Holt Family Fellowship has accepted Ber's offer with our deepest gratitude. It is fitting that our family research in our chat rooms will now be based in Ireland.
The Holt Family Fellowship reserves its right to restrict this generous service if necessary. Our chatters are reminded of the principles of "fair dealing".
---
The following instructions have been written to help those chatters unfamiliar with the process.
You must first register your email address.

Don't be afraid to do this. Our web designer is an active member of a group of programmers dedicated to thwart illegal users and spammers. We are well protected, and your email address will not be seen by anyone other than the webmaster and editor.
If you have registered to use The United Irish Researchers' Chat, there is no need to re-register.

To log in please enter your email address and
When this is done, you return here to log in.
This then takes you to the Chat Room where you type in your query, or statement in the box provided and click onto CHAT to post it.
** Email addresses should not be added to chat messages. This is how Spammers get hold of email addresses. Added email addresses will be removed.
We need each researcher to provide their ancestral research so we can all help each other to build our ancestral trees. Emailing each other privately makes a nonsense of the purpose of our Chat Rooms
Most recent messages:
Date
Time
Name
Message
6th Sep 18
23:30:49
Carole Parkes
Nigel, have you tried searching the general's chat search box right at the bottom of this page. I wish I could help more, but Lionel Fowler, the founder of this site, added the information you seek and I don't think he's active on this site anymore.
30th Aug 18
08:51:31
Carole Parkes
Hi Mike,
Did you see this information I found on Mary Ann Shaw?

Mary Anne Holt (Marrianne) daughter of General Joseph Holt was born about 1793 and she married William Shaw at Christ Church Delgany 16/1/1809. She was living at Bellevue, no address for William.
The following children baptised at Christ Church Delgany were probably theirs.
A William Peter Shaw was baptised 15/Apr/1810 with parents William and Mary (Anne?) who lived Bellevue.
Also an Emily Shaw c 8/Mar/1812, parents this time says William and Mary ANNE of Bellevue.
Also a Charles Stewart Shaw c 15/Jan/1814, parents Willaim and Mary (Anne missed out again) of Bellevue. There is a burial for Charles Stewart on 24/Jan/1814.

These are in addition to the baptisms in Monkstown. Joseph Holt Shaw b. 26/5/1817 c 15/6/1817, John Shaw b 11/10/1823 c 26/10/1823, Elizabeth Shaw b 22/11/1825 c 4/12/1825, Robert Shaw b 13/8/1836 c 22/10/1836. Another possible daughter was Amelia Shaw (born about 1817) was confirmed in Monkstown but not baptised there and also Hester confirmed at the same time. (Monkstown baptisms from Pam).

Also we now have:
St Peters C.O.I. Esther Shaw d/o Wm and Mary ann Shaw was baptised 8/4/1815
St James R.C. Mary Ann Shaw baptised 3/12/1813 d/o Wm and Mary Ann Shaw.
St James R.C. Robert Shaw baptised 1/4/1827
St James R.C. Elizabeth Shaw 22/2/1833
24th Jul 18
10:44:56
Nigel Burch
I'm writing a biography of Sir Richard Dry. The first two chapters cover his father Richard and the United Irishmen. You have a portrait of Richard Snr on the website. Does anyone know where this comes from? Also, you say Gen Holt recommended Richard Dry Snr as Superintendent of Livestock in 1805. What is the source of this? Many thanks for any help.
17th Feb 18
20:59:22
Carole Parkes
I made an error on the last post. My parents died in their mid nineties. I cared for them from when they were seventy.
17th Feb 18
20:55:35
Carole Parkes
Sorry to hear about your mother, Ber. I know how hard it can be as I cared for both my mum and dad until they died in their mid seventies.
17th Feb 18
20:53:39
Carole Parkes
Hi Everyone! I haven't checked in for a while, busy promoting 3 books now on social media. None on Joseph Holt though, 2 fiction and my mum's autobiography. After doing family research so long I coaxed her into writing it for me. It needed lots of editing but we got there in the end. I'd recommend asking parents to do that, even if it's just notes. I also started a book promotion group on Facebook if you care to join Mike. It's here https://www.facebook.com/groups/1963020040577375/
23rd Dec 17
18:25:34
Mike Pierce
Hello Bernadette,
Thank you for your kind reply. Season's greetings to you and all the fellowship. I would love any info on what ever happened to Maryanne Shaw nee Holt.
Would you be so kind as to put up a notice regarding the new book about General Holt. Simply advise people to enter the following into any search engine such as google etc..
Hero or Traitor? by Michael P. Pierce.
Thank you and all the very best in everything!
21st Dec 17
09:15:46
Bernadette Holt
Hello All, Seasons greeting
Will be back soon have lots of updates still caring for mother so research time limited.
Welcome Mike ,Your Edwards Father was Matthew Holt and Matthews brother i think, Charles Holt the only 2 left there in 1850s Edward had a sister Esther who also married a Cosgrove and another sister Dinah doing this from top of head at the moment will get back soon . Have you any family folklore as I think Charles was a miner..................
Have a lorry load more on Shaw /Atkinsons in Monkstown/Dunleary all the Shaw ladies as in Emily etc in the census in Dun/Leary/Monkstown were Maryanne and Williams daughters and when William Atkinson died ( he was master builder also) the girls seemed to move into his house. could be brother of Horatio Nelson Atkinson?
Hi Richard/Rita Will do
20th Dec 17
08:26:24
Mike Pierce
This is information about a new book about General Holt 1798.
I am a distant relative of General Joseph Holt. This information should interest all interested parties in the Holt Family Fellowship. Go to Amazon books and type in the title: "Hero or Traitor?" Author: Michael P. Pierce
11th Dec 17
15:55:32
Richard Paul Holt
Hi Bernadette , I would like to send you our latest Christmas letter but not sure of your e mail address. Can you send an e mail to me @ ritaholt@hotmail.com regards Rick
Registered users may view earlier messages from the chat page once logged in.
No chat will be published unless the chat register is activated. The Holt Family Fellowship reserves its right to editorship and refusal of other websites to be registered on its site. This site is not to be used for individuals' or companies' promotion. Chatting signifies agreement with these conditions.


1798