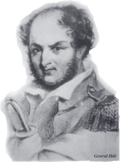 1798

General Holt's
Battle Flag
1798
THE HOLT FAMILY FELLOWSHIP
Est.11th January 2000
"Who wishes to serve his fellow creature will meet with the merit of his own action in time to come."
Joseph Holt 1756 - 1826, A Rum Story, Peter O'Shaughnessy editor, 1988, p.53.
The General's Chat Room
SPECIAL ANNOUNCEMENT:
With the retirement in Australia of Pamela Goesch and Lionel Fowler after approximately sixty years spent researching the true descendants of General Joseph Holt, Bernadette (Ber) Holt has offered her research services to our chat rooms. We would all be aware of and appreciate Ber's amazing family research abilities. The Holt Family Fellowship researchers are extremely lucky to receive such a wonderful offer. Most of us understand the tremendous work that this involves. The Holt Family Fellowship has accepted Ber's offer with our deepest gratitude. It is fitting that our family research in our chat rooms will now be based in Ireland.
The Holt Family Fellowship reserves its right to restrict this generous service if necessary. Our chatters are reminded of the principles of "fair dealing".
---
The following instructions have been written to help those chatters unfamiliar with the process.
You must first register your email address.

Don't be afraid to do this. Our web designer is an active member of a group of programmers dedicated to thwart illegal users and spammers. We are well protected, and your email address will not be seen by anyone other than the webmaster and editor.
If you have registered to use The United Irish Researchers' Chat, there is no need to re-register.

To log in please enter your email address and
When this is done, you return here to log in.
This then takes you to the Chat Room where you type in your query, or statement in the box provided and click onto CHAT to post it.
** Email addresses should not be added to chat messages. This is how Spammers get hold of email addresses. Added email addresses will be removed.
We need each researcher to provide their ancestral research so we can all help each other to build our ancestral trees. Emailing each other privately makes a nonsense of the purpose of our Chat Rooms
Most recent messages:
Date
Time
Name
Message
25th Jun 22
22:42:24
Carole Parkes
Letters of Administration for William Holt of 44 Leinster Road, Kingstown, Co Dublin, who died 22/Nov/1869 at York Road, Kingstown, were granted to Frances Sophia Campbell of York Road, Kingstown, wife of John Campbell and daughter of deceased.

Didn't the General's daughter live or die in Leinster Road?
25th Jun 22
16:31:01
Carole Parkes
Hi Richard,
I look in from time to time to see if anyone comes onto the site. We used to be very active here. Unfortunately, neither Ber nor I can now access the list of ancestors to edit or add new information. It's fortunate that we can still see all past posts.
30th Apr 22
09:16:23
Richard Paul Holt
Hello All from Downunder. This the first time I've logged in for a longtime. I was reminded that it's 11 years today since visiting Ireland and catching up with Bernadette for a lovely lunch. Hope all is well with everyone, especially you Ber, regards for now, Rick
7th Feb 22
22:14:07
Carole Parkes
Also, look at the Ancestor List Ber and I created years ago. You can click on a person and see what we have on them. Unfortunately, we cannot update it with new information as it comes along because we can no longer access it online. Are you reading this Peter Fowler? I need to change my email address too, but there is nowhere to do it.
7th Feb 22
22:10:12
Carole Parkes
The previous information was found on www.immigrantships.net
7th Feb 22
22:04:24
Carole Parkes
The previous information was found on www.immigrantships.net
7th Feb 22
22:03:19
Carole Parkes
Hi Ann, I'm so sorry you feel let down by the omission of your branch in the books. However, in defence of Gary and Pam Goesch who wrote the books, it is impossible to know everything about every twig on every branch. With the knowledge they had, it is inevitable they needed to publish at some point. Please give us details and dates that prove your link. All messages are saved for future lookups. You can find them by searching a keyword (on the bottom right of this page). Try searching for Joseph Harrison. He has been very elusive but we do have a bit of information on him. Did you know that in 1836 he sailed to America on the John Jay with Elizabeth Webster and their children, arriving on 16/9/1836? These were Catherine Niel, 20, Servant, of Ireland and Henry Webster. 19, Farmer, of Ireland.
Joseph's occupation is listed as Farmer.
3rd Jan 22
01:13:16
Carole Parkes
I found that record Ber,

Holt, Joseph, of Dublin to Murphy, Mary, of Dundalk licence 25.9.1822

At least I know he lived in Dublin prior to his marriage.
3rd Jan 22
00:56:31
Carole Parkes
I've just seen on google that there is both a CofI and RC St Nicholas in Dundalk, but the RC church wasn't built until 1859. Therefore the 1822 marriage must have been in the CofI.
2nd Jan 22
23:43:00
Carole Parkes
Ber, does the marriage record mention their fathers or witnesses. Is St Nicholas RC or CofI?
Registered users may view earlier messages from the chat page once logged in.
No chat will be published unless the chat register is activated. The Holt Family Fellowship reserves its right to editorship and refusal of other websites to be registered on its site. This site is not to be used for individuals' or companies' promotion. Chatting signifies agreement with these conditions.


1798