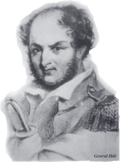 1798

General Holt's
Battle Flag
1798
THE HOLT FAMILY FELLOWSHIP
Est.11th January 2000
"Who wishes to serve his fellow creature will meet with the merit of his own action in time to come."
Joseph Holt 1756 - 1826, A Rum Story, Peter O'Shaughnessy editor, 1988, p.53.
The General's Chat Room
SPECIAL ANNOUNCEMENT:
With the retirement in Australia of Pamela Goesch and Lionel Fowler after approximately sixty years spent researching the true descendants of General Joseph Holt, Bernadette (Ber) Holt has offered her research services to our chat rooms. We would all be aware of and appreciate Ber's amazing family research abilities. The Holt Family Fellowship researchers are extremely lucky to receive such a wonderful offer. Most of us understand the tremendous work that this involves. The Holt Family Fellowship has accepted Ber's offer with our deepest gratitude. It is fitting that our family research in our chat rooms will now be based in Ireland.
The Holt Family Fellowship reserves its right to restrict this generous service if necessary. Our chatters are reminded of the principles of "fair dealing".
---
The following instructions have been written to help those chatters unfamiliar with the process.
You must first register your email address.

Don't be afraid to do this. Our web designer is an active member of a group of programmers dedicated to thwart illegal users and spammers. We are well protected, and your email address will not be seen by anyone other than the webmaster and editor.
If you have registered to use The United Irish Researchers' Chat, there is no need to re-register.

To log in please enter your email address and
When this is done, you return here to log in.
This then takes you to the Chat Room where you type in your query, or statement in the box provided and click onto CHAT to post it.
** Email addresses should not be added to chat messages. This is how Spammers get hold of email addresses. Added email addresses will be removed.
We need each researcher to provide their ancestral research so we can all help each other to build our ancestral trees. Emailing each other privately makes a nonsense of the purpose of our Chat Rooms
Most recent messages:
Date
Time
Name
Message
15th Mar 20
04:37:13
Mike Pierce
To all interested:
I have just learned that Peter O'Shaughnessy died 5 Oct 2013, may he rest in peace.
Mike Pierce.
15th Mar 20
04:19:48
Mike Pierce
Can anyone tell me who is managing and monitoring this chat room. Who is responsible for updating the info on the home page? Thanking whoever in advance for any input into my questions. Thanks again, Mike Pierce.
15th Mar 20
04:15:20
Mike Pierce
To Mary Byrd:
Hope this chat finds you well. How did you end up with a draft screenplay by Peter O'Shaunessy? Can You Share it with me?
Mike Pierce
7th Mar 20
23:45:32
Mike Pierce
I have not seen any communications from Bernadette Holt in Ireland. Is she still in charge of the chat room?
5th Feb 20
03:05:47
Carole Parkes
You'll probably need to copy and paste those links into the address box of your search engine.
5th Feb 20
03:04:08
Carole Parkes
Some Avoca parish records are on line here https://registers.nli.ie/parishes/0460

Other records here, but you need to know which parish you want
https://registers.nli.ie
18th Jan 20
06:18:03
Carole Parkes
Lee, if you scroll down the page to the very bottom, on the right, you can search for your Mary Grattan(a?). Or use Ontario as your search word. We have a few Holts in Canada.
7th Dec 19
04:34:37
Lee Larkin
Does anyone have information on the Holts of Ontario Canada? Anthony Holt and Mary Grattona nd their children, Thomas, William, Martha, Elanor, Mary Ann and Samuel? I am related to Thomas Holt from Mornington, Ontario.
5th Sep 19
07:45:33
Carole Parkes
Please ignore the previous post. This same Joseph Holt, painter, is still in Blair St in the 1841 census, so cannot be Joseph Harrison Holt. My error.
5th Sep 19
07:40:05
Carole Parkes
Now I'm in possession of a marriage certificate for one of Joseph Harrison Holt's daughters,thanks to Matthew Fowler, and it definitely states he is a painter, I think the following may be relevant.

The 1828 Pigot & Co's Directory of Liverpool gives a Joseph Holt, painter, living in 8 Blair St. We know Joseph H Holt and his family sailed to America from Liverpool in 1832, so is it possible he was living in Liverpool prior to this? There is no sign of him in the 1834 Directory unless he changed his trade to a confectioner and also changed his address to 13 Castle St. My guess this confectioner is a totally different Joseph Holt to the painter. I need to look further into this.
Registered users may view earlier messages from the chat page once logged in.
No chat will be published unless the chat register is activated. The Holt Family Fellowship reserves its right to editorship and refusal of other websites to be registered on its site. This site is not to be used for individuals' or companies' promotion. Chatting signifies agreement with these conditions.


1798