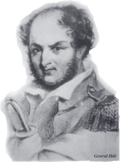 1798

General Holt's
Battle Flag
1798
THE HOLT FAMILY FELLOWSHIP
Est.11th January 2000
"Who wishes to serve his fellow creature will meet with the merit of his own action in time to come."
Joseph Holt 1756 - 1826, A Rum Story, Peter O'Shaughnessy editor, 1988, p.53.
The General's Chat Room
SPECIAL ANNOUNCEMENT:
With the retirement in Australia of Pamela Goesch and Lionel Fowler after approximately sixty years spent researching the true descendants of General Joseph Holt, Bernadette (Ber) Holt has offered her research services to our chat rooms. We would all be aware of and appreciate Ber's amazing family research abilities. The Holt Family Fellowship researchers are extremely lucky to receive such a wonderful offer. Most of us understand the tremendous work that this involves. The Holt Family Fellowship has accepted Ber's offer with our deepest gratitude. It is fitting that our family research in our chat rooms will now be based in Ireland.
The Holt Family Fellowship reserves its right to restrict this generous service if necessary. Our chatters are reminded of the principles of "fair dealing".
---
The following instructions have been written to help those chatters unfamiliar with the process.
You must first register your email address.

Don't be afraid to do this. Our web designer is an active member of a group of programmers dedicated to thwart illegal users and spammers. We are well protected, and your email address will not be seen by anyone other than the webmaster and editor.
If you have registered to use The United Irish Researchers' Chat, there is no need to re-register.

To log in please enter your email address and
When this is done, you return here to log in.
This then takes you to the Chat Room where you type in your query, or statement in the box provided and click onto CHAT to post it.
** Email addresses should not be added to chat messages. This is how Spammers get hold of email addresses. Added email addresses will be removed.
We need each researcher to provide their ancestral research so we can all help each other to build our ancestral trees. Emailing each other privately makes a nonsense of the purpose of our Chat Rooms
Most recent messages:
Date
Time
Name
Message
20th May 13
00:15:50
Carole Parkes
Ber, I've added this information to James Holt (Londondery) on our Ancester List.
19th May 13
18:23:10
Bernadette Holt
To the memory of Captain James Missroon Who was born in the city of Londonderry, Ireland, on the 26th day of December, 1772, and departed this life on the 27th day of June 1849. Being a resident of this city for the last fifty-six years. Hear what the voice from Heaven declares; To those in Christ who die! Released from all their earthly cares. They'll reign with him on high. And, next to him, rest the remains of his wife, Mrs. Margaret Missroon, who died October I7th. A. D. 1854 in the 72nd year of her age. This James died in Charleston South Carolina !!!
18th May 13
20:50:06
Richard Paul Holt
Hi Bernadette,
In my family history I do have Charles Ross Blair but didn't have the name Murray in his name, will update my records. As far as connecting with Louisa BLAIR and Thomas Lamie Murray can't make that connection. Do you have any dates of birth/marriage/death for them to help the search?
Also have a connection with Charles Scott Blair family and will ask if they are aware of this connection.
17th May 13
20:23:48
Bernadette Holt
Richard, Christina Lamie Murray daughter of Thomas Lamie Murray (chairman of national Irish Bank 1830s among other things and died in paris France) was the mother of Everand Home Murray Morgan who married Alice masseroon in London. Thomas Lamie MURRAY married Louisa BLAIR and your Elenor Masseroon Holt married Charles Scott Blair and they had a child Charles Ross MURRAY Blair...................coincidences ??
17th May 13
02:24:43
Bernadette Holt
Richard The jameson family definately in Faughanvale since 1796 still no sign of Mcgarrigles there were Thomas . George , Robert there and there in Tithe and Griffiths and in 1901 census they may be worth checking back also James Masseroon ( son of James and jane Gardiner) that married Mary Ann Hasson anyon echecked them out? well Alice Masseroon d/o William and Mary in London married Everand Home Murray Morgen and his brother Greville married a Margaret Hesson in Canada and that Hesson family originally came fron Derry.
15th May 13
19:31:07
Bernadette Holt
yes and It looks like a William Masaroon and Sarah Dougherty were the parents of Robert and James so the Dougherty name appearing again
15th May 13
13:20:00
Richard Paul Holt
Hi Bernadette,
this is what I have for Robert:

ROBERT MASAROON was born c. 1790 in Londonderry, and died 03 Mar 1871 in Prince Arthur Terrace,
Education: Doctor of Divinity Occupation: 1837 - 1840, Methodist minister at Portadown.
His son WILLIAM ROBERT MASAROON was born c. 1824 in Ireland, and died 04 Nov 1896 in Belfast:
Occupation: 1861, Flax spinner

The only connection that I have been able to establish is that Robert Masaroon is the brother of James Masaroon who is the father of Eleanor Masaroon my great great grandmother.

The connection that I have for a Mary Masaroon Born 25April 1840 Londonderry, is the sister of Eleanor. Is this the Mary Ann Masaroon you are referring to?
15th May 13
02:54:40
Bernadette Holt
Richard the surname is Masaroon Jane with aunt Ann Caulfield in 1901 census. Now came across a mention of Wm R Masaroon involved in linen industry in Bann Valley about 1847 and they also had office in Manchester Dunbar Dickinson and Co,.we know that the Thomas Holt of yorkshire was Cloth merchant so I wonder were they also went to Ireland makes sense that they would have as flax was a big crop here then and a lot of linen as well as other cloths made here , there was also a Rev. Robert Masaroon in Kingstown Dublin in 1814 and he was Methodist. Ages ago I came across a Joseph Holt a cloth merchant in Scotland very early 1800s must look back.
14th May 13
19:52:46
Bernadette Holt
Richard Have ye followed mary ann Masseroon that married James Dougherty ?
14th May 13
19:23:38
Bernadette Holt
The Roe Valley a bit more likely the Roe Valley area was at various times home to a variety of militia and regimental forces including the Longford Militia, King's County Militia, Royal Artillery, 2nd Royal Battalion, 4th Dragoons, 5th Dragoon Guards, 5th Royals, 7th Dragoons, 7th Husars, 72nd regiment and 79th regiment. Addresses given in the registers include - America, Belfast, Carlow, Dublin, Offaly, and Scotland. Also the name galbraith coming in a lot here again
Registered users may view earlier messages from the chat page once logged in.
No chat will be published unless the chat register is activated. The Holt Family Fellowship reserves its right to editorship and refusal of other websites to be registered on its site. This site is not to be used for individuals' or companies' promotion. Chatting signifies agreement with these conditions.


1798